Our genre is blessed (or cursed, some might say, but not me, nosir) with a wide range of awards and honors for outstanding achievement. We have the Nebula, the Tiptree, the Bram Stoker, the LOCUS Award, the Sidewise Award, the World Fantasy Award (previously the Howie, now the Creepy Tree), the Stabbie, the Saturn, the Seiun, the Prometheus, and many more whose names I am likely forgetting.
The Hugo Award, first given in 1953, is the oldest and most prestigious.
The Dragon Award, first given last year, is the newest. It's way too new to know how prestigious it will be in the long run.
The Dragon is a fan award, and aspires to be the Peoples' Choice Award for SF and fantasy. It is given at Dragoncon, the huge Labor Day convention down Atlanta way, but you don't need to be a Dragoncon member to vote on it. All you need to do is register, here:
http://application.dragoncon.org/dc_fan_awards_signup.php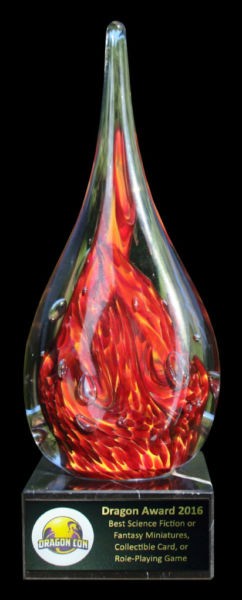 Dragoncon has provided a handsome trophy for the winners, which is a good start. GAME OF THRONES won one last year, so I can testify to that. But the true prestige of any award derives not from the hardware (mind you, nice hardware helps), but from the works it honors.
I remember talking to Eric Flint about the Dragon Awards at Kansas City last year. He had a hand in their creation, and it was his hope that in time the Dragon would become a major broad-based award voted on by a wide spectrum of fans from all over the country. It's not there yet, by any means… but it could become that, if enough people decide to take part. So far that has not happened. But it could. That's up to you.
There is no cost to vote for the Dragons. You don't even need to join the con. So if you'd like to cast a ballot for the novels, games, TV shows, and movies you liked best last year, register at the link above and vote. But do it soon. Registration closes in a couple of days.
Current Mood:

calm