… or rather, the old becomes new again tomorrow, when Tor releases the latest volume in their series of Wild Cards reissues: DEAD MAN'S HAND, the seventh book in the original sequence.
I've had some readers complain about my name being featured on the covers of the Wild Cards books because I "didn't write them." That's a bullshit complaint, IMSHO. No, I am not the sole author of the Wild Cards stories, I am only one of… ah, lemme see, I believe it was forty-one writers at last count.
I am, however, the editor of every single one of the twenty-three volumes published to date, and the new ones in the pipeline as well… the guy who recruits all those writers, determines the 'overplots' of the triads, solicits proposals, accepts and rejects, and gives extensive notes on rewrites. (And there's a LOT of rewriting in Wild Cards, to make all the bits fit together so the whole will be more than the sum of its parts). It's a lot more work than any other sort of anthology, believe me… though I love it, so I don't complain… too much. I earn those credits, and to suggest that my name is just being 'slapped on' the covers while someone else does the work is as ignorant as it is offensive.
Besides which, I DO write for Wild Cards, in addition to editing the series. More so in the early days, admittedly, before Westeros and Ice & Fire arose to eat up almost all of my writing time. Truth be told, I'd love nothing better than to write some more Wild Cards stories. I have some old favorite characters I'd love to revisit (Popinjay, the Turtle), and some newer characters that I've hardly written about at all (Lohengrin, Hoodoo Mama)… and I have stories to tell. But all that will need to wait until I've finished WINDS OF WINTER, and maybe DREAM OF SPRING as well.
Which brings me back to DEAD MAN'S HAND.
If you're one of those who hasn't tried Wild Cards because there's not enough of my own writing in it, well, here's your chance to hop in. Because this volume has LOTS of my own writing. The typical Wild Cards mosaic novel features work by half a dozen or more writers and as many characters, but on this outing there were only two of us. DEAD MAN'S HAND is a sort of noir mystery novel, as two very different detectives attempt to unravel a grotesque murder in Jokertown. The stars are Yeoman, the ace of spades vigilante, written by John Jos. Miller… and my very own Popinjay, Jay Ackroyd, a rumpled private eye and projecting teleport.
The Tor reissue has a great new cover from Michael Komarck as well.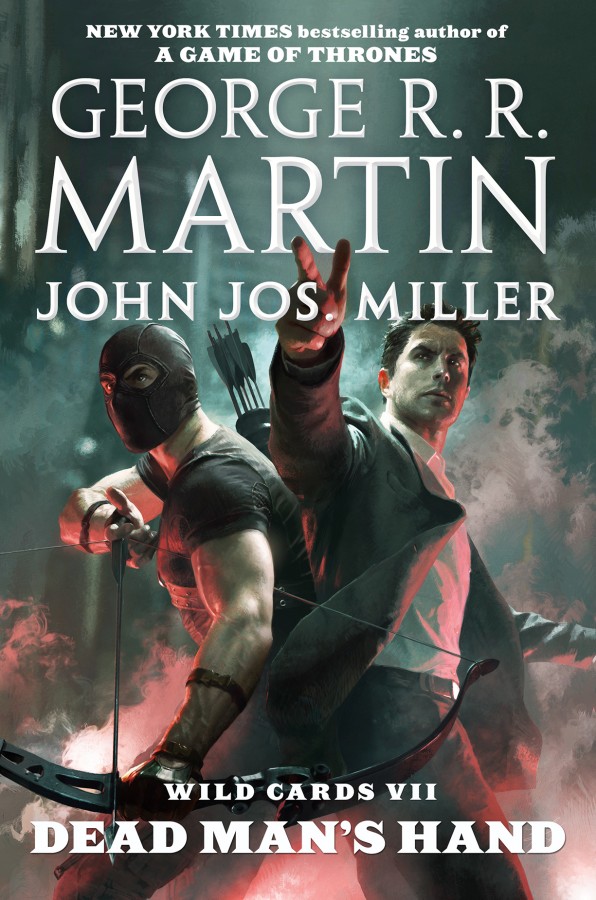 DEAD MAN'S HAND goes on sale tomorrow, at your favorite local bookstore and/or online retailer.
Current Mood:

cheerful