Greetings from Ogre Jenni! I'm one of George's minions at Jean Cocteau Cinema, and I have an awesome announcement to make.
Beginning Monday, March 21st we will show free screenings of HBO's Game of Thrones Season 5. We are not pre-selling the tickets online. The tickets (and seats) will be available on a first come first serve basis, and they must be obtained directly from our box office on the day of the screening.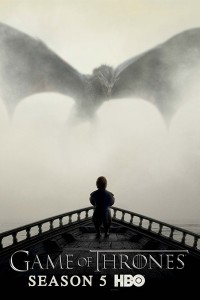 There will most likely be a line going around the block, but while you are waiting we will bring food, coffee, signed copies of the Song of Ice and Fire books, and other goodies outside for you to purchase! We are also booking some geeky entertainment for you—not that waiting in line isn't fun in its own right.
We will host a costume contest before each screening, and we are giving away some cool Game of Thrones-themed prizes. So we hope to see plenty of Denaeryses, Hounds, Briennes, Sansas, Podricks, or even White Walkers at the screenings!
EPISODE SCHEDULE:
Monday, March 21st at 7:00 p.m. • Episodes 1 and 2
Monday, March 28th at 7:00 p.m. • Episodes 3 and 4
Monday, April 4th at 7:00 p.m. • Episodes 5 and 6
Monday, April 11th at 7:00 p.m. • Episodes 7 and 8
Monday, April 18th at 7:00 p.m. • Episodes 9 and 10
As you might know, Game of Thrones: Season 6 premieres exclusively on the HBO channel Sunday, April 21st. Check out HBO's website for more information.
See you at the Cocteau!
—THIS POST IS BROUGHT TO YOU BY THE MINIONS OF FEVRE RIVER—