Lots of cool stuff went down in San Diego at Comicon… parties, panels, parties, signings, parties, meals with friends, and much much more.
Too much to relate here, at least. But I can mention a few highlights.
For me, one of the highlights was the appearance of a couple of copies of THE WORLD OF ICE & FIRE.
The worldbook won't be released until October, so it wasn't for sale at San Diego, but Bantam had a couple of advance copies hot off the presses at the Random House booth, for lucky fans to open, peruse, and drool over. Not mock-ups, either. This is the real book.
Alas, the crowds at Comicon make it impossible for me to walk the floor anymore without a cordon of security, so I never made it to the Random House booth… but I was able to snag one of the samples and take it home with me.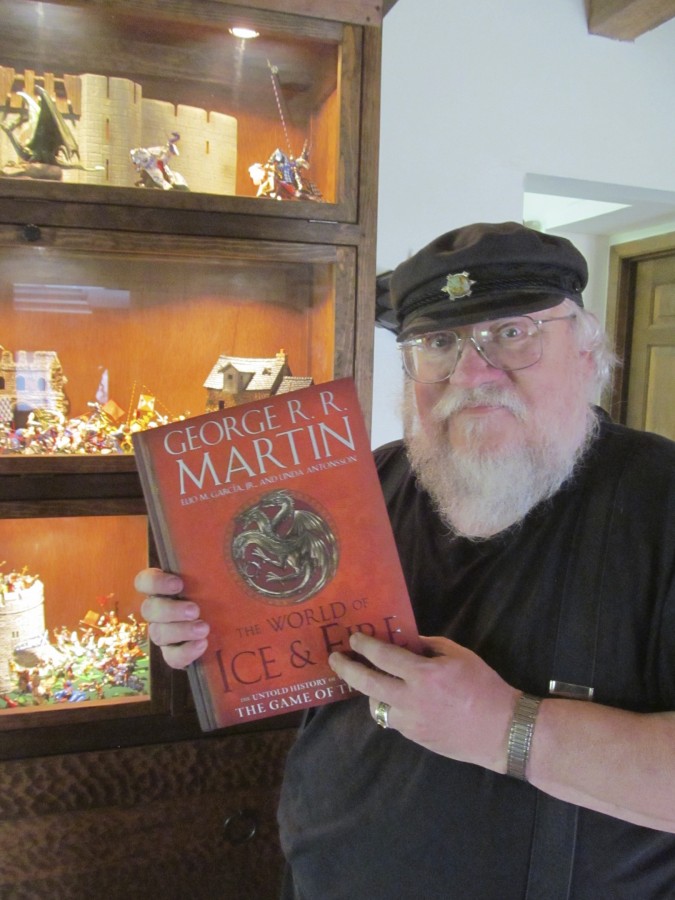 It's everything I hoped for! A bloody gorgeous book. Wait till you see it.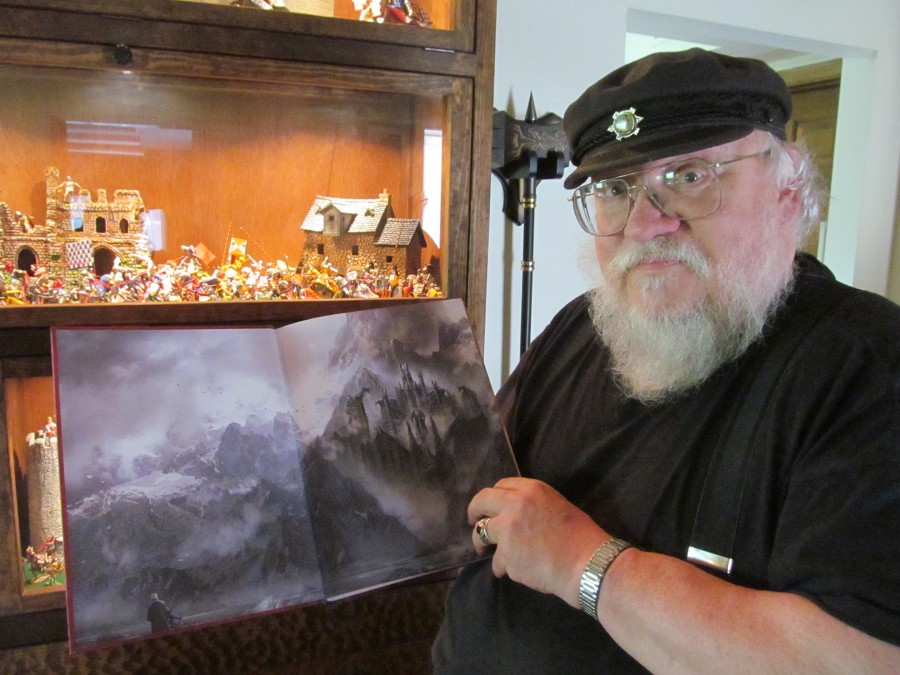 Years back, when my editors at Bantam first approached me about doing a concordance for Westeros and its history, I was initially reluctant. I had seen a number of these 'worldbooks,' and, well, some were pretty good, but others were awful, cheaply made collections of previously published material with lots of bad art. If we do one of these, I declared, I want it to be the best one ever published. A coffee table book, big and beautiful, with lots of original content, histories and tales never previously published anywhere, plus maps and heraldry and family trees, all of it lavishly illustrated by some of the best fantasy artists in the world.
That's what we got. It took WAY longer than we thought it would, and required much more time and effort from everyone concerned, but I think the end result is worth it, and hope you all will agree. Hey, even Robby the Robot loves the book.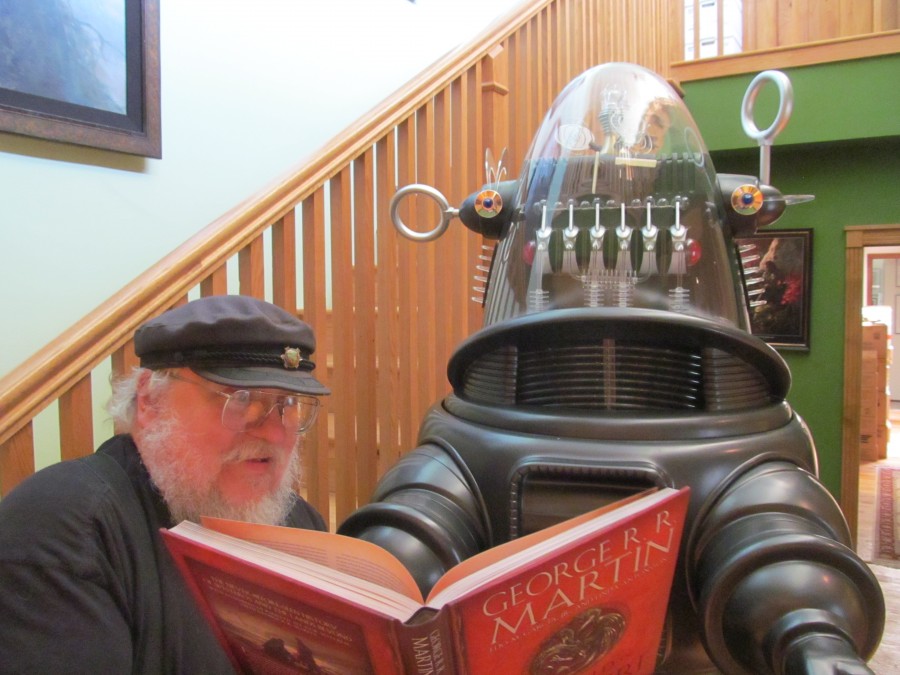 Will THE WORLD OF ICE & FIRE answer every question you ever had about Westeros and its history? Hell, no… I need to save SOMETHING for the novels and the Dunk & Egg stories. But it will answer a lot of questions, including some you never knew you had, and there are long meaty histories of all the major regions and great houses of the Seven Kingdoms, plus the Lands Beyond — the Nine Free Cities, the Summer Isles, the grasslands of Essos, even the Further East, beyond the Bones.
And the art… the art will knock you on your ass… Justin Sweet, Magali Villenueve, Marc Simonetti, Michael Komarck, Jae Drummond, Chase Stone, Ted Nasmith, and many many more.
My thanks go out to all the great folks at Bantam, in particular my editor Anne Lesley Groell and production manager Erich Schoenweiss, who labored long and hard to bring the worldbook to fruition. Also, a lot of credit goes to art director Dave Stevenson, and to Delia Greve and Rosebud Eustace at Becker & Mayer… and of course to my collaborators and partners in crime, Elio Garcia and Linda Antonsson, without whose efforts THE WORLD OF ICE & FIRE could never ever have happened.
I wanted to give my fans the best fantasy concordance ever published. I think we did.
If you want to see for yourself, Amazon is offering it at a considerable presale discount right now
http://www.amazon.com/World-Ice-Fire-History-Westeros/dp/0553805444/ref=sr_1_1?s=books&ie=UTF8&qid=1407035564&sr=1-1
and, of course, it is also available for preorder at many other online booksellers, and your favorite local bookstore.
I'm very proud of this one. Maybe you can tell…
Current Mood:
null