If you weren't at the Jean Cocteau Cinema on Monday night, you missed out on all the fun.
We had a great day. People started lining up as the sun was coming up, and the queue grew longer all day. We sent out coffee and donuts to make sure no one froze or starved to death while waiting in line. Doors opened at 6:00, with the show starting at 7:00pm, but Maisie Williams and the wolves turned up at 5:00 or so to meet the fans. Maisie is amazing… not only a talented young actress, but a delight in person. I think she spoke to everyone in line, signed their books and Funko Pop dolls, posed for pictures. Not everyone got into the theatre, alas, but everyone in line got to meet Maisie…
… and the wolves. Flurry and Zorro, the wolf ambassadors from Wild Spirit, were great hits as well.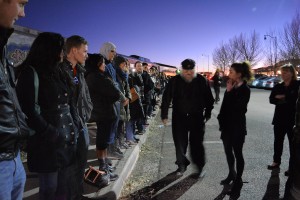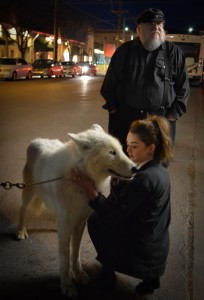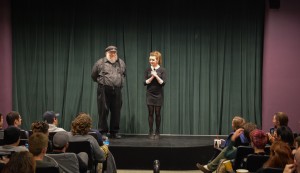 Maisie is on her way back to LA now… but I think she liked Santa Fe, and one day we hope to have her back again.
Meanwhile, the GOT marathon continues next Monday night at the Jean Cocteau. Next time we will be screening episodes nine and ten from season one — "Baelor" and "Fire and Blood." And we'll be joined by executive producers and showrunners DAVID BENIOFF and D.B. WEISS, who will be Skyping in after the episodes to answer your questions.
Line up early. It's sure to be another epic crowd.
Current Mood:
null