Take home a dangerous woman this Christmas.
DANGEROUS WOMEN, the latest big cross-genre anthology from Gardner Dozois and yours truly, has been scheduled for a December 3 release in hardcover, according to Amazon. (I assume that is correct. The date has not actually been confirmed for me by anyone at the publisher, but presumably 'twas Tor who gave Amazon their date. Sometimes, alas, the author is the last to know).
The cover looks like this (again, according to Amazon, who apparently know more than we do):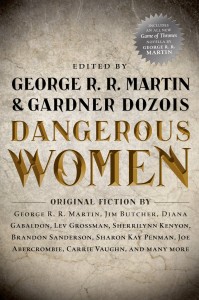 (I know, I know, some of you will not like the cover. Honestly, I am not a huge fan of the all-typographic approach myself, but it seems to be the lot in life for writers who reach a certain level of success, the thought being that the writer's name will sell more copies than any artwork, no matter how splendid. And DANGEROUS WOMEN contains stories by a LOT of brilliant famous award-winning bestselling writers, ergo the desire to trumpet their names. All understandable. Being an old fanboy at heart, however, I love great SF and fantasy art, and would have preferred to depict some actual dangerous women on the cover… but this one, I must concede, will probably sell better).
DANGEROUS WOMEN is our biggest anthology yet… yes, even more massive that WARRIORS (though still well short of the length of my fantasy series), with another all-star lineup. The table of contents will look like this:
INTRODUCTION, by Gardner Dozois
SOME DESPERADO, by Joe Abercrombie
MY HEART IS EITHER BROKEN, by Megan Abbott
NORA'S SONG, by Cecelia Holland
THE HANDS THAT ARE NOT THERE, by Melinda Snodgrass
BOMBSHELLS, by Jim Butcher
RAISA STEPANOVA, by Carrie Vaughn
WRESTLING JESUS, by Joe R. Lansdale
NEIGHBORS, by Megan Lindholm
I KNOW HOW TO PICK !˜EM, by Lawrence Block
SHADOWS FOR SILENCE IN THE FORESTS OF HELL, by Brandon Sanderson
A QUEEN IN EXILE, by Sharon Kay Penman
THE GIRL IN THE MIRROR, by Lev Grossman
SECOND ARABESQUE, VERY SLOWLY, by Nancy Kress
CITY LAZARUS, by Diana Rowland
VIRGINS, by Diana Gabaldon
HELL HATH NO FURY, by Sherilynn Kenyon
PRONOUNCING DOOM, by S.M. Stirling
NAME THE BEAST, by Sam Sykes
CARETAKERS, by Pat Cadigan
LIES MY MOTHER TOLD ME, by Caroline Spector
THE PRINCESS AND THE QUEEN, by George R.R. Martin
!ƒ
The Abercrombie is set against his RED COUNTRY backdrop, the Holland gives us Eleanor of Aquitaine, Jim Butcher returns us to Harry Dresden's world, Lev Grossman contributes a tale of life at Brakebills, Steve Stirling revisits his Emberverse, Diana Gabaldon's story features Jamie Fraser of OUTLANDER fame, the Spector is a Wild Cards story featuring Hoodoo Mama and the Amazing Bubbles, and mine own contribution… well, it's some of that fake history I have been writing lo these many months, the true (mostly) story of the origins of the Dance of the Dragons. The stand-alone stories, not part of any series, feature some amazing work as well. For those who like to lose themselves in long stories, the Brandon Sanderson story, the Diana Gabaldon story, the Caroline Spector story, and my "Princess and Queen" are novellas. Huge mothers.
You can preorder DANGEROUS WOMEN here:
http://www.amazon.com/Dangerous-Women-George-R-R-Martin/dp/076533206X
Current Mood:
null