Ever since HBO first took out an option on A GAME OF THRONES — even before we got an actual production order — I've been getting emails from readers who desperately wanted to be a part of the production. "I'll do anything!" some of you have written. ((Really, don't say stuff like that. Really. Don't.))
Well, now's your chance. The call has gone out for extras. Details here:
http://www.extrasni.com/news
Of course, you need to be in Northern Ireland, or get yourself to Northern Ireland. They're shooting this mostly in Belfast and environs.
And it would help to know horses. As you can see, their biggest need right now is for experienced male riders. (I imagine they could use some female riders too, though maybe not as many. And if not, hey, that's why they invented false beards.)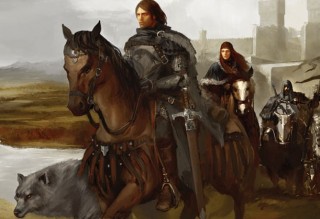 But I'm in Santa Fe, so I'm not the guy to write to about this. Inquire as above.
And good luck. Maybe I'll be meeting some of Belfast, a month from now.
Current Mood:
null