I won't be at this year's Comicon in San Diego, but some of my characters will be.
Jed Haigh and Justice Joseph, the good folks behind Valyrian Resins, tell me that the first of their resin minibusts will be on sale — for the first time — at the Comicon. So if you're one of those who have been waiting impatiently for your very own Ned Stark, Sandor Clegane, and Daenerys Targaryen, swing by the Haute Products booth at San Diego before they're all gone, and be the first kid on your block to bring 'em home.
The minibusts will come full painted in 1/18 scale. Each of the three characters in this initial offering will come in two versions: the "standard" pose and a variant. Ned, for instance, is holding Ice in the standard pose, and holding out his chain of office in the variant.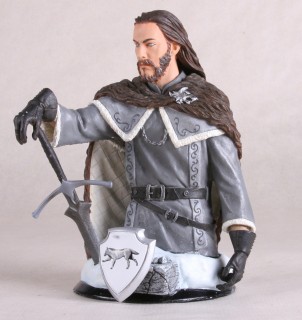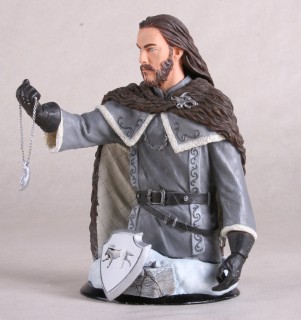 Jed Haigh writes, "We will definitely have the Variant versions available and a very small amount of the Regular Version at SDCC. I just received confirmation from the factory that they will have 25 cases of each case pack (regular and variant). We will be fulfilling Diamond Comics order out of these 25 cases which will leave us with only 4 cases of the regular version! The cases come packed with 2 of each figure."
The variant versions are limited to 250 pieces, the regular versions to 500 of each. Haute Products — aka Valyrian Resin –will be sharing a booth space with SOTA Toys again, booth number 4245.
And just to whet your appetite a little more, here are the two versions of Dany.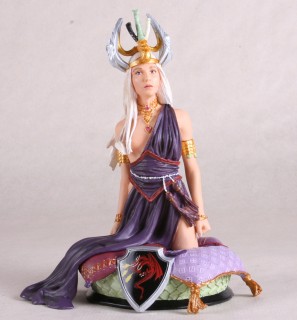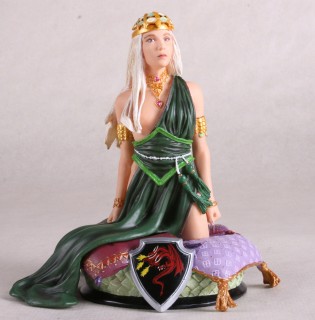 And if you can't make the San Diego Comicon, no worries. As Jed mentions, Diamond Comics will be distributing the minibusts, which means they should be available at all the best comic shops and bookstores across the country. You can also order directly from Haute Products by visiting the Valyrian Resin website at http://www.valyrianresin.com/
And while you're looking over these, Justice Joseph is already hard at work sculpting the next three figures in the line — Jaime and Cersei Lannister, and Arya Stark. Drop by their booth in San Diego and they may even let you have a peek at the prototypes.
Current Mood:
null