Other Awards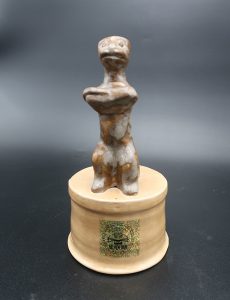 The Newt
The Newt is given by the SF Community Convention in Czech Republic, presented for excellent Science Fiction or Fantasy work.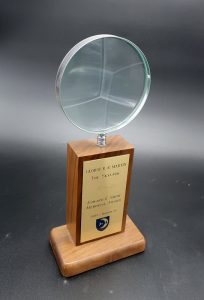 The Skylark
The Skylark is a fan award from NESFA®: The Edward E. Smith Memorial Award for Imaginative Fiction (the Skylark) is presented annually by NESFA® to some person, who, in the opinion of the membership, has contributed significantly to science fiction, both through work in the field and by exemplifying the personal qualities which made the late "Doc" Smith well-loved by those who knew him.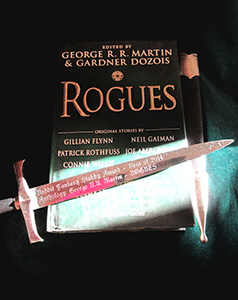 The Stabby
BEST ANTHOLOGY / COLLECTION / PERIODICAL OF 2014: Rogues Anthology by George R.R. Martin and Gardner Dozois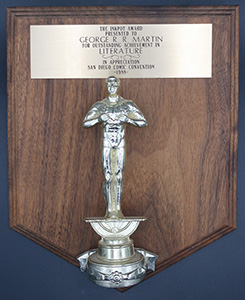 The Inkpot
The Inkpot is presented for outstanding achievement in-appreciation from San Diego Convention 1988.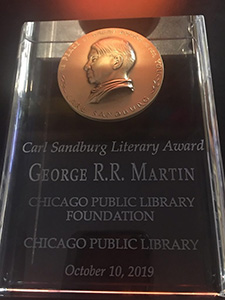 The Carl Sandburg Literary Award
Given in 2019 by the Chicago Public Library Foundation.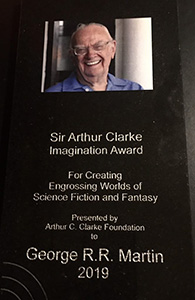 Sir Arthur Clarke Imagination Award
Presented by Arthur C. Clarke Foundation in 2019 for Creating Engrossing Worlds of Science Fiction and Fantasy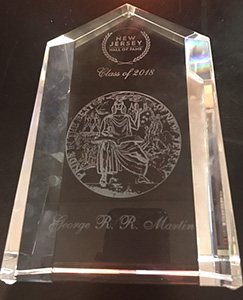 New Jersey Hall of Fame
Class of 2018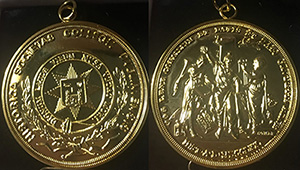 The Edmund Burke Medal
Given by Trinity College in Dublin, 2019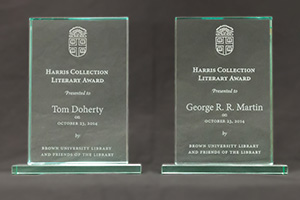 The Harris Collection Literary Award
Given in 2019 by Brown University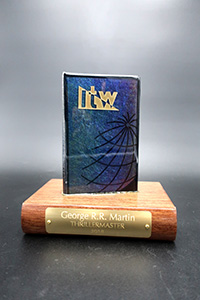 The Thrillermaster Award
Given in 2018 by International Thriller Writers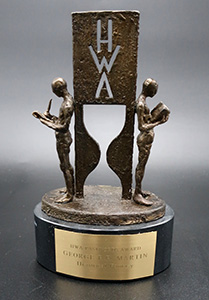 The HWA Award
Given by the Historical Writers of America for Historical Fantasy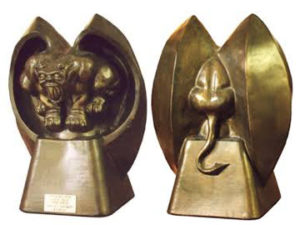 The Balrog Award
Given in 1984 for THE ARMAGEDDON RAG. One nomination, one win for each of these.
Funny story about this award, this image is not MY trophy. I actually never received my trophy. Much like poor Vermithrax (a hanging model I had made some years back), my Balrog was destroyed in an auto accident when the awards organizer was driving to the post office to mail it. He thereafter moved to Oman and folded the awards, and my shattered Balrog was never replaced.

The Seiun Award
Coming soon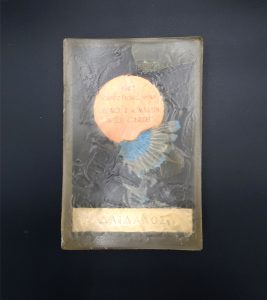 The Daedelus Award
Coming soon