Dubuque
---

DA PROFESSOR


By 1975, my stint in VISTA was over. So was the chess boom, which meant that tournament directing gig I had counted on to supplement my income had dried up. I was selling everything I wrote, but "everything I wrote" consisted of short fiction, and even then short fiction did not pay enough to support anyone but Howard Waldrop. Also, I was married, and Gale wanted to go back to school and finish her degree. There was no way I could hope to pay college tuition on my income from short story sales. I had to take a day job.

Fortunately, I had a master's degree from the best journalism school in the country, and after sending out several hundred queries, I was hired as a journalism instructor by Clarke College, a small Catholic women's college in Dubuque, Iowa. It was a two-man department. My friend Charlie Ellis taught television and film, and I taught the print journalism courses. I was also the faculty advisor to the student newspaper, The Courier, which was great fun and got me in trouble constantly.

---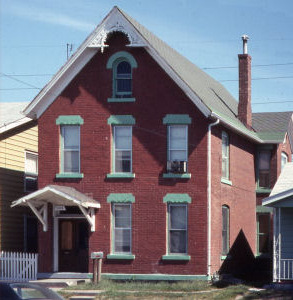 2266 JACKSON


In June of 1976, Gale and I moved out of our Chicago apartment and into the first house that I had ever owned: 2266 Jackson, in Dubuque, Iowa. Housing prices in Iowa were much lower than those in Chicago, needless to say. Otherwise I would have been in apartments for another decade or three, I suspect. Dubuque is an old steamboat town built on high, rocky bluffs over the Mississippi, but my house was down under the bluffs in the not-so-great section called "the flats." It was pretty run down too, which was why I was able to buy it for $18,500. Even by 1976 prices, that was cheap. A little paint and a new roof fixed the major problems, though, and I ended up being very happy with the house, and especially with my office, which was three times as big as the one in Chicago.

---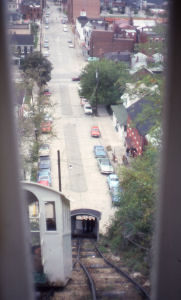 FENELON PLACE ELEVATOR


Flat as a flapjack, with fields of corn stretching away in all directions as far as the eye can see. That's the preconceived notion of Iowa, a notion that I shared until I moved there. Dubuque is nothing like that, however. It's an old river city built on high rocky bluffs above the Mississippi, full of old Victorian "steamboat gothick" homes. My favorite among the town's historic landmarks was the Fenelon Place Elevator, a funicular railway that was originally built by the publisher of the local newspaper to shorten the commute between his home atop the bluffs and his office underneath them. I rode up the elevator many a time, and later borrowed it for my werewolf novella, "The Skin Trade." The setting of that story is a fictional composite of Chicago and Dubuque, my two midwestern home towns.

---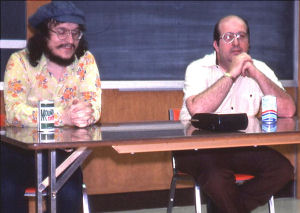 SKIFFY COMES TO CLARKE


The journalism department at Clarke was not large enough to justify two full-time faculty members, so I also had to teach a couple of classes for the English department -- freshman composition (which I hated) and science fiction lit (which I loved). Teaching the SF course gave me a great excuse for rereading a dozen or so of my favorite novels, and also allowed me to bring some actual SF writers to campus to talk to my class (so long as they didn't live too far away from Iowa). Gene Wolfe came up several times, and was always an amusing and insightful speaker.

---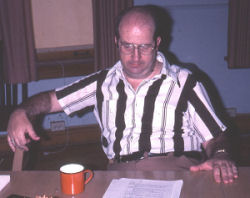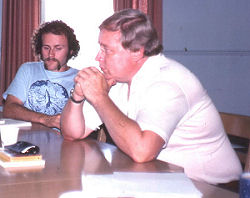 CLARKION WORKSHOP


Clarion and Clarion West always get more applicants than they can accept, so I was convinced there were enough aspiring SF and fantasy writers out there to support a third workshop. One summer I convinced Clarke College to let me try one. The Clarke program cost considerably less than either Clarion and only ran for three weeks instead of six, but we had a great lineup of instructors. Algis Budrys, Gene Wolfe, and Gardner Dozois did a week each, and I was there for all three weeks. The only thing we lacked were students. We were hoping for a hundred applicants and twenty students. We had seven applicants and seven students, and two of 'em were freebies.


STAR PUPILS


The Clarke summer workshop may have been a bust as far as numbers were concerned, but two of our "magnificent seven" went on to sell professionally. George Guthridge and Phyllis Anne Carr have both published novels. Hey, that's more than a quarter of the class!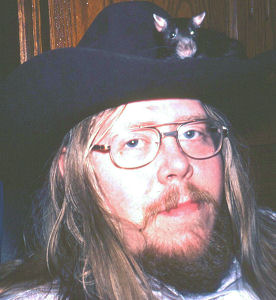 EDITOR WITH RAT


Gardner likes to say that Clarke was infested with rats and secret nuns. The rat on his hat was named Mockmouse, and all I can say is that I'm glad Gardner didn't try to put him up his nose. As for all the other stuff that happened that week, the secret nuns and the ums and the dickcats, you'll have to ask Gargoo. But buy him a drink first.

---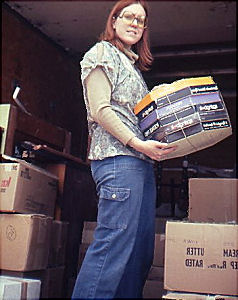 GOODBYE TO IOWA


Gale graduated from Clarke in June of 1979. By then I was ready to go full-time as a writer. I had come to be very fond of Dubuque, with its hills and bluffs, its old Victorian houses, and all its history, but Gale hated the savage winters and hot, humid summers. We decided to move to New Mexico. We had seen Santa Fe for the first time while driving to the worldcon in Phoenix the year before, and both of us had fallen in love with it. So Gale went down and bought a house, while I sold the place on Jackson Street and remained in Iowa to finish the semester, living in one of the dorms at Clarke.

The stress of separation, relocation, and a change in career proved too much for our marriage, though. We broke up during the move, and divorced soon thereafter. As irony would have it, I ended up moving into a house in Santa Fe that I had never ever seen (except in pictures), while Gale went to Minneapolis, and later back to Brooklyn.

---